Vivid Square, Bratislava. Shared Cities Diaries #6
Central and Eastern European municipalities often face the same challenges. One common issue is that city governments work with limited budgets and - at the same time - typically underuse resources available to them. Read more about a case study tackling this problem in Bratislava in the 6th edition of the Shared Cities Diaries. Written by Jan Mazur from Aliancia Stara Trznica.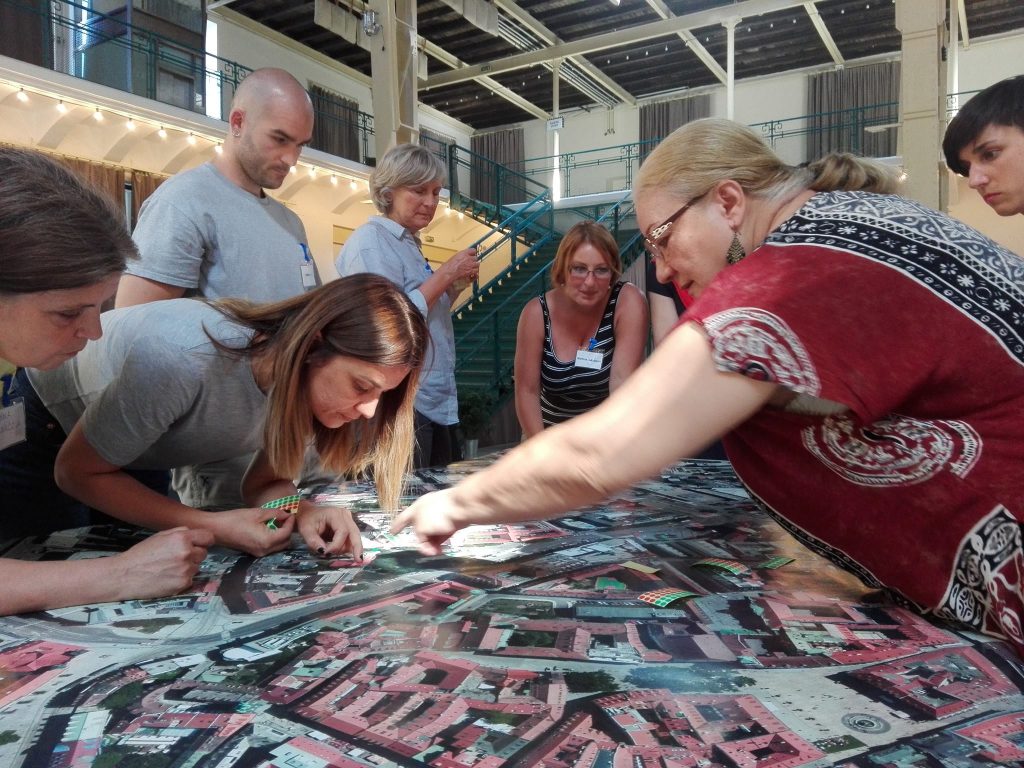 by Ján Mazur, Project Manager, Aliancia Stará Tržnica, Bratislava
In order to saturate public demand for quality public space, municipalities have been looking for ways to tackle the above described challenges. As the manager of a rare cultural and market hall located on the Slovak National Uprising Square in the very center of Bratislava, the team of Aliancia Stará Tržnica has been in close contact with municipalities In the past few years. Joining the Shared Cities: Creative Momentum project enabled Aliancia Stará Tržnica to prepare a complex case study aiming to change the nature of the square – one of the largest central public spaces in the city – in cooperation with Bratislava municipality.
The "Vivid Square" case study proposes changes to the nature of this central city public space. Apart from visual concerns related to the present state of the space, the proposal also addresses a financial and operational model fore the future. In order to deliver an inclusive public value for inhabitants and visitors of Bratislava, it is critical to find ways to use all resources available to the city. As this often requires a trial and error approach, there is a great deal can learn from Aliancia Stará Tržnica other Shared Cities: Creative Momentum partners, such as from KÉK (Kortárs Építészeti Központ – Contemporary Center for Architecture, Budapest). The first joint workshop on participatory crowdsourcing platforms helped to streamline the process of using a local platform for the public participatory process and for collecting feedback.
Workshops also clearly showed a weakness – the bias towards young, digital-savvy respondents who are over-represented among users of such applications. This revelationslo prompted us to undertake a series of participatory consultations, focus groups and surveys with seniors and the elderly. As a result, the participatory process and feedback gathering now better reflects opinions of actual users of the space. Similarly, we included consultations with visually impaired persons, thus increasing the inclusivity of the participatory process even further. Contemporary tendencies to use smart digital means to communicate and collect data is laudable, but it requires complementary involvement of offline means to correctly assess the needs of the whole population, and especially its vulnerable members.
Furthermore, we participated in the KÉK's workshop Working with the City (April 2017, Budapest) where we presented our own experience of almost 5-years with finding sustainable models of managing public property. We had a great opportunity to provide numerous inputs to participants' projects and help them think of ways of achieving sustainability. The cooperation with KéK continued by inviting Samu Szemerey as a mentor in our first hackathon. Samu helped us draft key points of data policy proposed to the city of Bratislava. Partners, such as KÉK, provide a good blend of knowledge of architecture, design, urban public policy and smart city topics to the project. Moreover, even though they have a non-governmental background, they understand the need to produce sustainable operational models for a proper development of municipal projects and local SMEs.
We expect that 2018 will bring about new close partnerships with other SCCM partners as well. Until recently, CEE municipalities tended to look to Western European countries for inspiration and working solutions, but these often fared worse within the specific CEE conditions. This is why CEE inspirations could be more effective and productive – as they account for the regional specifics. The ambition of the Shared Cities: Creative Momentum project is to be a leading platform for a contextualized dialogue on sharing within urban settings and the phenomenon of shared cities.