SHARE YOUR HEART. SHARE YOUR CITY. RESIDENCY #1
This residency was the fourth in a series of four curatorial-practice-oriented programmes: three workshops (publications, data, exhibitions) and one residency organised by the Curatorial Lab of Shared Cities: Creative Momentum. They explored innovative approaches to the sharing of knowledge in architecture, design and urban planning.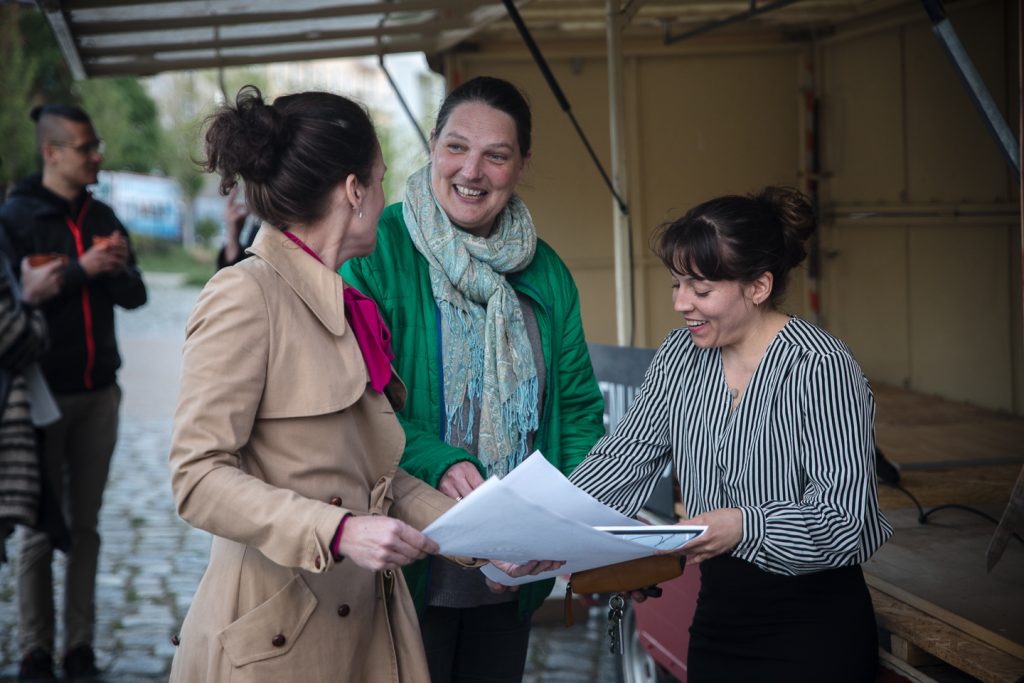 The residency programme on exhibiting, publishing and performing explored the staging of architecture sharing and urbanism in contemporary artistic and curatorial practice with an objective to find the most suitable presentation formats for Shared Cities: Creative Momentum (SCCM). The four two-month residencies took place at Zentrum für Kunst und Urbanistik (ZK/U) in Berlin and were organized by reSITE in collaboration with KUNSTrePUBLIK. These residencies, open to artists, architects, urban activists, curators and visual designers, helped us finalize the SCCM final presentation and final publication (Atlas) concepts, that should be later realized in cooperation with invited international artist(s) and author(s).
Our focus was on how to present this relatively new phenomenon with the maximum use of visual, performative, participative and interactive tools. Another objective was to study similarly innovative publications and visit comparable interactive programs and shows in Berlin, while taking part in on-site encounters with museum curators and cultural managers with an eye on the Shared Cities: Creative Momentum final presentation and publication (Atlas), to be launched in autumn 2019 in Berlin.
Resident #1: Lila Athanasiadou / GR, UK

Lila Athanasiadou is a freelance writer and researcher with a background in architecture. She has organized and moderated seminars and lectures at TU Delft, ArtEZ and Witte de With Center for Contemporary Art and has presented her work in academic conferences at KTH, Stockholm, Goethe University in Frankfurt and the Estonian Academy of Arts in Tallinn. She has worked as an architectural consultant in Italy and Belgium and as a research assistant in the MVRDV's think-tank, the Why Factory. She currently leads the Corporeal Discourse program at the Master of Interior Architecture CORPOREAL at ArtEZ Academy of the Arts. Her work explores feminist and queer pedagogical practices and intersections of digital data with human and territorial bodies.
Introduction
"In the context of the residency I was commissioned to develop original research in the form of a micronarrative for the city of Berlin related to the ongoing project Hacking Urban Furniture, initiated in 2017 by ZK/U Berlin. The micronarrative consists of research whose main argument unfolds with the use of visualizations of both quantitative and qualitative data that is either open access or gathered in an empirical manner. The result of the micronarrative would be considered for Publication in the Shared Cities Atlas planned to be realized in 2019."
Find more about the concept development, methodology and results description in the Research Publication