"IN THE SHARED CITIES PERFORMANCE, THERE IS A LOT OF BLOOD, AS THERE IS IN URBAN PLANNING"
What is the driving force behind urban sharing? And how can citizens shape their own cities? Find the answers in the interview with Osamu Okamura, a Prague-based urbanist and curator of the Shared Cities Finale in Prague, Czech Republic.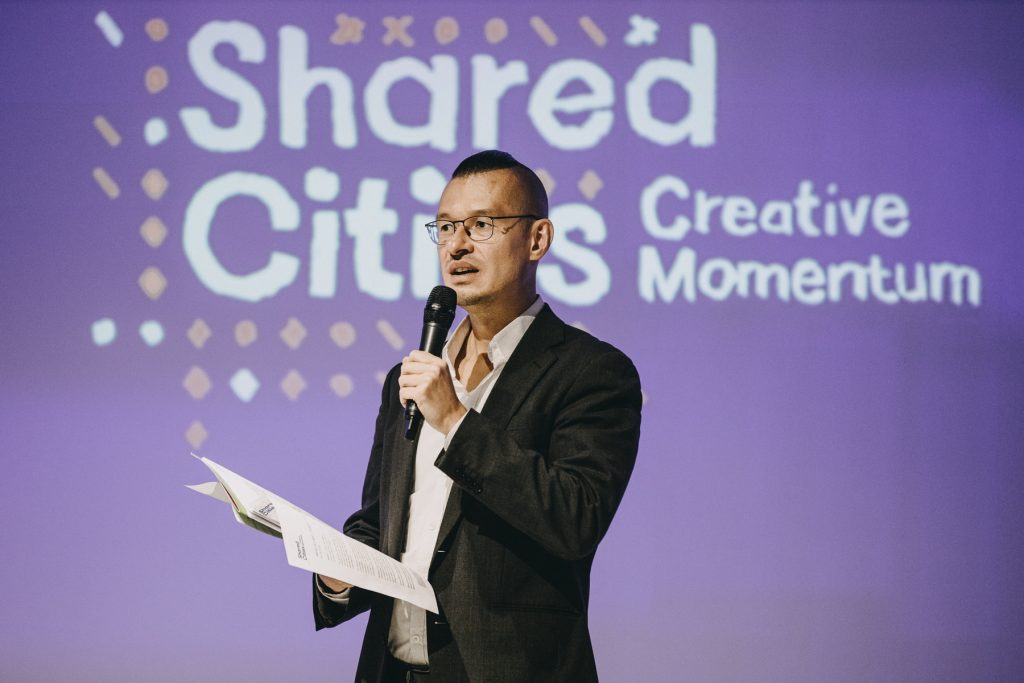 "It's important to change the perception of citizens that their city is given to them and that they delegate all their responsibility to representatives. It's necessary to allow citizens to participate."
+++++++++++++++++++++++++++++++++++++++++++++++++++++++++++++
Interview with Osamu Okamura (Curator of the Shared Cities Finale)
By Martina Peachment Brehmer
In the summer of 2016, when you stood at the beginning of Shared Cities, a project focused on sharing in Central European cities, how prominent was the sharing phenomenon in public discussions in the region?
Cities today are more open to innovations and the exchange of ideas that could make them better. Nowadays, there is more urgency for more flexible communication between cities to exchange good practices. Also, there is a clear shift in urban politics that is bringing bottom-up activists directly to the city hall. I can see this in Prague or Bratislava. Some of the people who have been participating in the Shared Cities project are now more involved in city governments, including myself. In this shift, Shared Cities has developed from being a cultural project to an initiative with the capacity to have a huge impact on cities as the findings developed throughout the Shared Cities network in six European countries can now be implemented a lot easier.
Osamu, you are the curator of the Shared Cities Finale showcasing best practices and achievements of the project. What can we look forward to?
The Finale has two parts. The first is a conference targeting an expert audience which takes place on 3 October in CAMP, the Centre of Architecture and Metropolitan Planning in Prague. The main findings will be presented in a discussion of experts from different countries who will provide a wider context of the Central European situation and even globally. Then, we will launch the Shared Cities Atlas published together with nai010 publishers and curated by Helena Doudova. There will be a possibility to join one-on-one conversations with our 11 Shared Cities partners. The second part, my favourite one, is a theatre performance taking place on both evenings of the Finale – 2 and 3 October in Archa Theatre. This Performance was developed as a highly interactive and immersive experience addressing how today's informational society experiences our cities. It connects the hidden rules and connections between computer games and urban planning – in a provocative way. The director is the young Czech performer Jan Mocek who was inspired by the German documentary theatre approach. There will be three actors representing themselves – I am one of them!
Part of the Finale are videos showcasing how Shared Cities partners solved different urban issues in seven European cities. What do we get to see?
The videos are animated by the artist Alexey Klyuykov and directed by the architect Martin Hejl. We hope to spread these case studies globally in a brief and attractive format to share possible solutions of urban problems. We haven't used any language, only animations and sound, so that the messages can cross borders between countries and cultures.
What global trends in urban sharing do you see today? When you compare how cities like Los Angeles or Tokyo use sharing to tackle their issues to Eastern and Central European cities, do you see similarities or rather differences?
Many challenges cities face today are actually very similar. The biggest issues are affordable housing, access to public space and safety. All of these are connected to urban planning, zoning and urban design. The specifics of Central Europe are population shrinking which leads to vacant spaces that need to be redeveloped.
What is the driving force behind urban sharing?
I'd say it's the scarcity of resources that is becoming more urgent as more people move to cities. Space is a very valuable asset in cities and it's often restricted for many citizens. Also, it's fresh air, clean water – natural elements in the city. These are aspects that make cities liveable and pleasant. It's a never-ending attempt to create an environment that is friendly for humans. Many cities deteriorate to such an extent that people are escaping them. On the other hand, people living in cities actually have a much smaller carbon footprint than people living in the countryside, because of the commuting, the heat-loss of the free-standing houses. Actually, moving to the city might be a move to survive on this planet.
How can citizens who live in cities help solve urban problems and shape their own cities?
With cities becoming denser, problems are becoming more complex. It's not possible anymore to solve them top-down just through city governments. Participation of citizens is crucial. Without engaged citizens cities will probably collapse – some have collapsed already. We need to share knowledge on how to make living conditions in cities better. This knowledge, how to participate in city development, should be part of basic education. It's important to change the perception of citizens that their city is given to them and that they delegate all their responsibility to representatives. It's necessary to allow citizens to participate. Public funds and resources are limited and can't solve problems in their complexity within desirable timeframes. The more people get involved, the faster and better changes will happen.
The Performance Virtual Reality that is part of the Shared Cities Finale uses gaming to explore the way we live in cities. How does technology redefine our urban lives?
A city is a device that brings people together. Similarly, digital networks connect people. Our theatre play represents different approaches of different users to experience the city. Even though they share the physical and relational space, each of them has a completely different perspective and takeaways from what is happening. It creates conflict which can be difficult to solve. It is common for cities that conflicts exist – actually, they are vital for cities. The conflict is the moment where action begins and opposing models of the world collide. Also, it's interesting to compare our behaviour in the digital world as opposed to the physical world. In the same way, urban planning isn't always smooth. There are high ideals and then there is the clash of different realities. In the Shared Cities Performance, there is a lot of blood, as there is in urban planning. My part is influenced by my experience from my stay in Chicago last year. It's partly a dystopic, hyper-segregated city. But the dystopic aspect of the world around me gives me inspiration on how to tackle urban problems. It's much more interesting to deal with cities that are not functioning well.
Interview took place at 09/19