Beyond A Unified Europe: Imagining Eurasia with Kyong Park / Shared Cities Diaries #3
Is transnational cultural collaboration possible? Is the pan-European political project viable? Do we, as Europeans, share similar cultural values and goals for the future? These are some of the questions discussed in our daily conversations and in local media.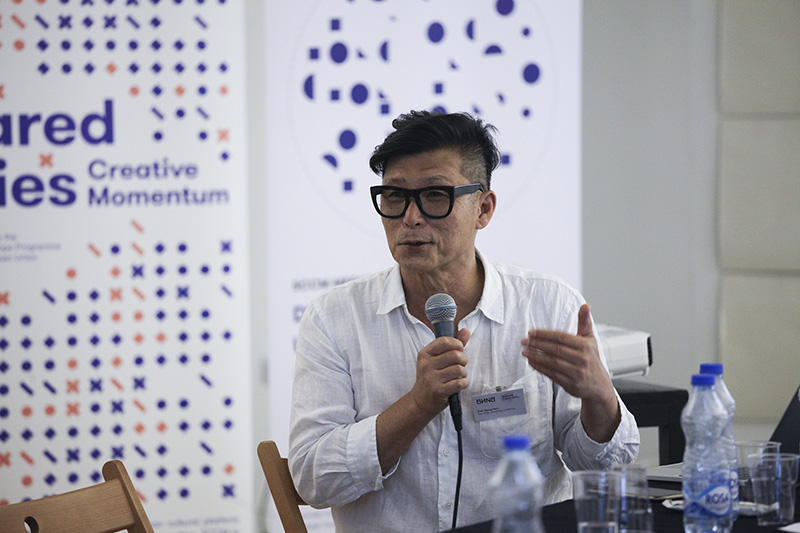 Let me share with you a short note about a unique encounter and a perspective that shed new light on this discourse. In May of this year, we received a rare opportunity to meet American professor and artist Kyong Park at the Ideas Yard Belgrade, organized within the Shared Cities: Creative Momentum project by Association of Belgrade Architects. The symposium was curated by Ivan Kucina and the Belgrade International Week of Architecture (BINA) team. While we, the partners of the SCCM project, shared the first practical experiences from our cooperation in our respective Central and Southeast European Cities and enjoyed a small Serbian "detour" from our comfort zones, there was a real surprise waiting for us in the program: Imagining New Eurasia, a project commissioned by the Asia Culture Center in Gwangju, Republic of South Korea.
Where is the division between Europe and Asia? What is the exact dividing line? Or is there one? How is this geographically unified piece of land widely perceived today as consisting of two very different and isolated parts, while history tells us about a rich cultural and business exchange?
Kyong Park's three years of research project culminating in three subsequent exhibitions is now two-thirds completed, and, at this point, we've seen a convincing body of assembled evidence, data, and images re-constructing the anatomy of Eurasia based on our shared history. We've also learned about diverse new, alternative scenarios and future projects: plans for a new Silk Road, a Central Asian-European gasoline pipeline network, and ambitious developments in Eurasian business relations and interrelated capital investments—not to mention Chinese and Russian radical political proclamations.
The first two chapters, HERE, THERE, AND EVERYWHERE: EURASIAN CITIES (2015-2016; Atlas of a New Geography, City Mix and Urban Poetry) and FROM, TO AND IN-BETWEEN: LIQUID NETWORKS (2016-2017) brought together a collection of objects incorporating the "DNA of Eurasian cities" in its complex structure (such as oriental carpets), geo-data infographics (animations of the growth of 100 European and Asian metropolises), intimate portraits of the cities with their inhabitants or interactive poetry/emotion cards. It has also offered a physical experience from climbing a central pavilion "lookout hill," providing an immersive image of panoramic digital projections of ever-metabolizing, towering skylines of globalizing cities. The third chapter, MINE, YOURS AND OURS: BORDERS, TERRITORIES AND UNIONS, focusing on migrations of territories and the integrative quality of borders will be presented at a later date (2017-2018).
The complexity of the artistic (and political) message was supported by diverse media addressing different layers of perception, consistently in a minimal, smart, and comprehensible manner. Moreover, the open-competition participatory element involved anyone living in or from Eurasia to collaborate on the redefinition and reinterpretation of the idea of Eurasia and to submit ideas to the specific sections of the exhibition.
From Kyong we've gained many inspirational ideas about exploring and presenting architectural, urban planning, and art-related issues in an innovative way. As a founder of the New York Storefront for Art and Architecture (1982, Executive Director until 1998), he is definitely a leading figure in this field, and the Storefront program attempted to generate a dialogue and collaborations across geographic, ideological, and disciplinary boundaries. This is something we also strive for in our European Shared Cities: Creative Momentum project's final exhibition and publication, planned for 2019.
And me personally, as an architect of European-Asian origin, I got a lot of food for thought, as you can imagine. Now I am looking forward to further development of our discussion in Berlin in November/December of this year, within the SCCM Curatorial Lab Exhibition Workshop, where we hope to invite additional leading figures in the field of architecture presentation from Austria and the U.S.
You can find more info on the Imagining New Eurasia project here:
Imagining New Eurasia exhibition guide:
Osamu Okamura / reSITE Prague