BELGRADE'S CITIZENS REVIVE THEIR RELATIONSHIP WITH THEIR CITY
A group of three young mothers initiated the change of public space. How did they manage to develop the Plato, a housing estate courtyard in Belgrade's central district Vračar, into a lively urban hub? And do people feel more responsible for their surroundings now? Find the answers in the interview with Tatjana Vukosavljević from Association of Belgrade Architects, Belgrade, Serbia.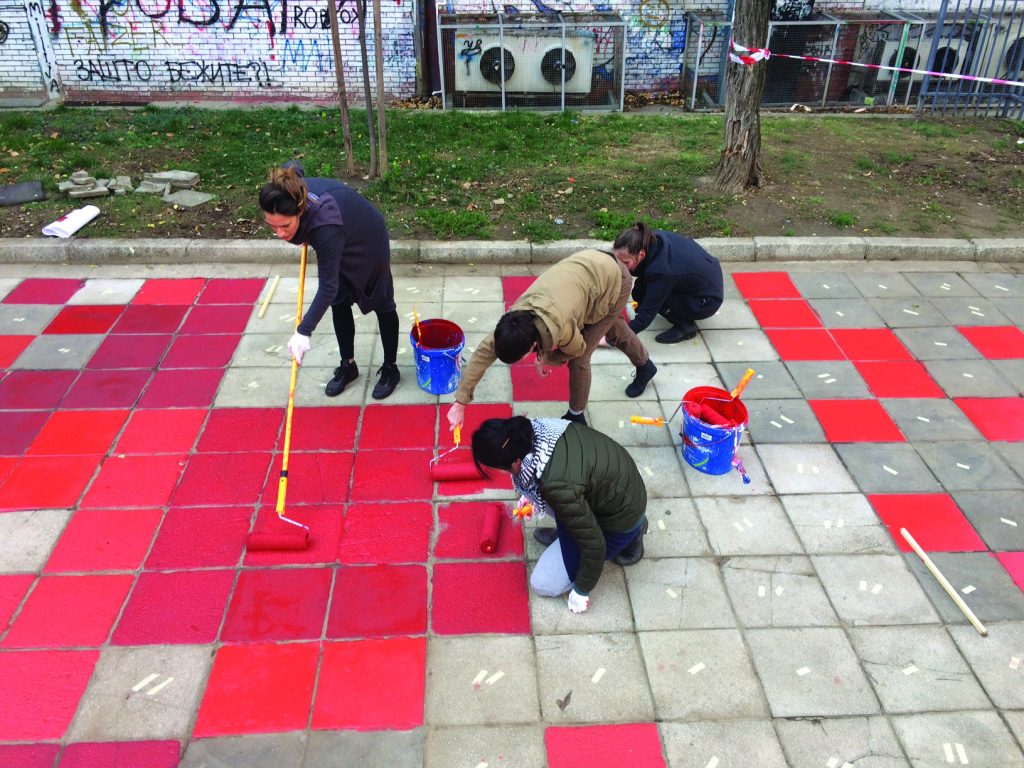 "Be positive, active, communicate, work together, share! Be patient, but persistent. Building a community is challenging and mostly a very slow process, so don't give up."
+++++++++++++++++++++++++++++++++++++++++++++++++++++++++++++
By Martina Peachment Brehmer
Shared Cities encourages people to be active in the transformation of their neighbourhoods. Čuvari Parka (Park Keepers), a group of three young mothers, are a great example of locals initiating the change of public space. How have the Park Keepers managed to develop the Plato, a housing estate courtyard in Belgrade's central district Vračar, into a lively urban hub? They only started with something as small as collecting litter to create clean space for their kids…
We often think that meaningful change requires great deeds. In reality, even small steps towards personal or collective well-being create fertile ground for fundamental change. Cleanliness plays a crucial role in improving our well‑being. That's why collecting litter helps to create a sense of community – it's a collaborative effort encouraging people to work together in order to make a difference. Inspired by the feeling of community when collecting litter in the Plato courtyard, the Park Keepers designed Urban Hub #1 – a community table with seating that can be rearranged for each event – from film screenings or kindergarten classes to enjoying a cup of coffee with the neighbours. Ultimately, all these seemingly small activities make the Plato a better place for living.
How did the Park Keepers involve different stakeholders – architects, students or kids?
The important starting point in developing a concept for any public space is to identify the talents and assets already available in the community. To get different actors of urban change involved, Park Keepers organized a wide range of activities – from cleaning, swap markets to charity and cultural events. People got easily involved when asked about their opinion – encouraging caring about their surroundings made the project both appealing and successful.
Based on your experience in Vračar, what helps to build a community in a big city?
Quality public space where neighbours can meet, interact and get involved is crucial for the establishment of a community. Relationships often start with shared concerns or passions. Park Keepers are inspiring as their initial motivation – to make the Plato a better place – got people to work together for a greater cause. Many of us have a desire to improve something in our surroundings, all we need is encouragement and good company. Caring is contagious!
During Shared Cities, you opened a second Urban Hub – an open classroom in a school courtyard in Belgrade's suburban Ledine. How does open space encourage socializing and learning of local kids and neighbours?
This hub is called the "Multifunctional Spot" – an open space outside of the school building where curricular and extracurricular activities and cultural and leisure events take place. Involving the community in the design process and the construction of the hub not only encouraged socializing and learning, it also empowered everyone to speak, act and test new ideas. Designed like this, open space fosters a unique learning and engagement environment.
After decades of central management of public space in Serbia, do both hubs demonstrate that the mindset is changing? Do people feel more responsible for their surroundings?
Last year, BINA conducted a survey on urban activism which documented a growing number of activists, especially women, performing smaller interventions in Belgrade's public space. These urban activists are professionally interested as architects and designers and driven by a notion of improvement. They are dissatisfied with the quality of urban space in the city. This is a new trend – a representative study of Belgrade's population from 2004 concluded that many citizens lack the motivation for public action as mistrust in public institutions was still widespread.
What other changes have you observed in Belgrade since joining Shared Cities?
Firstly, a powerful urban activist scene has arisen. Inner courtyards and entire neighbourhoods are coming to life; spontaneous, citizen-initiated projects have popped up. People are increasingly more active. Secondly, institutions such as municipalities and cultural centres are getting more involved in the activation of public space by organizing cultural events that are free of charge. Finally, it is evident that authorities are taking citizens' participation in decision-making processes more seriously.
What would you recommend to people who plan to revitalize their inner courtyards?
Be positive, active, communicate, work together, share! Be patient, but persistent. Building a community is challenging and mostly a very slow process, so don't give up.
During the Shared Cities project, ABA has organized 3 BINA festivals. What were their highlights and how has the festival developed as part of the Shared Cities network?
The three festivals focused on different topics and presented case studies from all over Europe – in 2017 the theme was Ideas Yards, in 2018 From Communis to Communication and in 2019 Positive & Active. During all three years, we emphasized the social role of civic initiatives in the improvement of modern cities and worked with suggestions from citizens and experts – basically their responses to social and environmental needs in their immediate environment. All BINA festivals have created a stage for local and international actors of urban change to meet, to share and to work together. We will continue to do so in the years to come.
Interview took place at 08/19
Join the event SHARED CITIES IDEAS YARD: Spaces of productivity