12 Things You Will Learn about Katowice Culture in Medialab's Research
A few years ago, no one would have thought of Katowice becoming a city associated with culture. In 2015, however, following a brief yet intensive period of investment in cultural infrastructure and cultural events, Katowice joined the exclusive international group of UNESCO Creative Cities. Has the city undergone a true cultural revolution? Is Katowice's current en-vogue status just a passing fad or could it be a herald of major changes in the city centre? To find out, we teamed up with cultural researchers, designers, programmers and analysts to study responses given by 3.633 participants in over a dozen local events and to analyse tens of thousands of posts published in social media and web-based information services. What we present below is a 12-point list of things to look out for in the exhibition.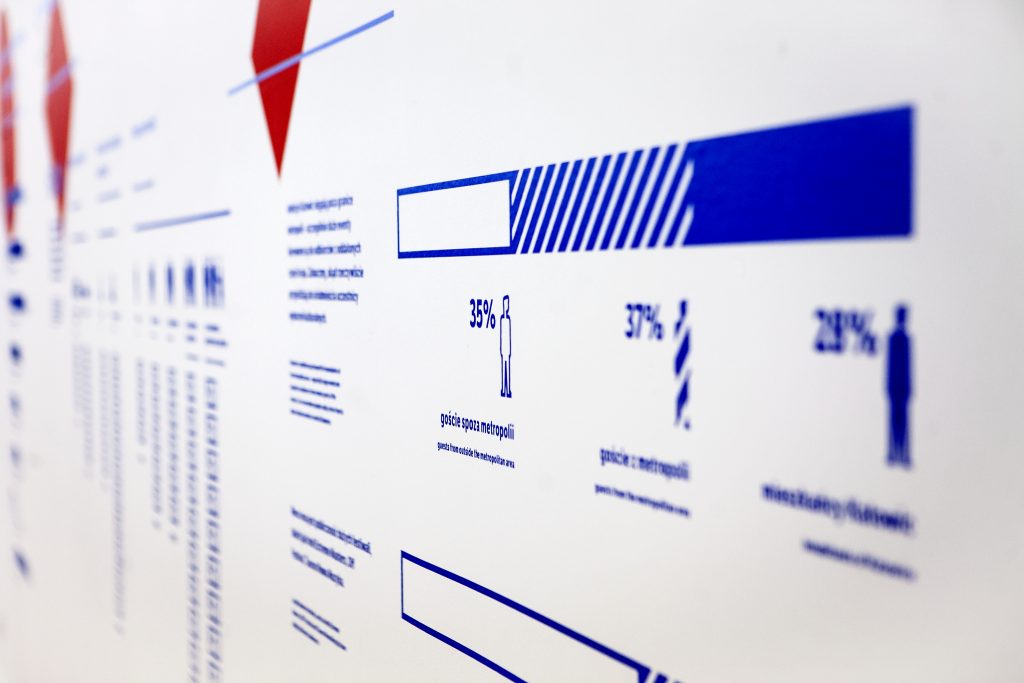 1. What do high-profile events do for Katowice?
Katowice's premier events, such as the Off Festival, Tauron New Music and Intel Extreme Masters, are internationally recognised brands with well-established audiences. The city has been investing in these events for years, emphasising their promotional value and the capacity to attract thousands of spectators to Katowice. Who are the festival goers? Do they really differ from everyday cultural audiences in Katowice?
2. Where do cultural event participants travel from and what means of transport do they use to get to central Katowice?
We have checked how and whence the participants of concerts, festivals, meetings and workshops travel to the city centre. We know how many residents of particular Katowice districts took part in the events under investigation. Thanks to that, we can verify the geographical reach of individual institutions (district, citywide, metropolitan, superregional).
3. Are some city districts excluded from the participation in the cultural life of the city centre due to limited public transport access?
Transport accessibility is a prerequisite to a well-performing cultural ecosystem of the city. Deprived of the ability to get to the city centre quickly and safely, the residents will rarely go to the cinema, dance workshops or English classes, even if they are offered free of charge. Therefore, we decided to examine the transport accessibility of selected cultural venues in Katowice.
4. Is the Katowice Culture Zone an isolated cultural island?
The Katowice Culture Zone generates mixed reactions. While the supporters appreciate the multi-million investment in the cultural infrastructure, admiring the architectural accolades awarded to some of the venues, the critics point out that the area is cut off from the city centre and fails as a people-friendly public space. We enquired some members of the NOSPR and Silesian Museum audiences to find out more about the way they use this upscale part of the city.
5. How much do cultural event participants spend in the city centre?
Cultural participants spend money not only on admission to museums, cinemas or concerts. Whether planned or spontaneous, participation in cultural events is often accompanied by a visit to a pub or restaurant. We have investigated which of the most typical participant types spend the most, and what the relationship is between the level of spending and age, education or the preferred transport option.
6. Do cultural events enliven the city centre?
Despite the significant investment in the centre in the last few years, central Katowice is still suffering from problems, such as decreasing demographics and abandoned residential and business premises in the high streets. Many local residents are still more likely to spend their leisure time away from the city centre. We asked the event participants who they were, what their motivations were and what they were doing in the centre while attending the cultural event.
7. What are the most common types of culture consumers?
The organisers seem to intuitively identify the common participant types, such as e.g. the snazzy social climber, the regular, the student or the couple on a date. While pigeonholing event goers may be something of an oversimplification, it promotes a better understanding of the audience and their needs. In defining our own types, we were driven primarily by such factors as the level of competence and the frequency of participation.
8. What are the recent trends in Katowice's culture: what kind of events take place in different parts of the city?
Based to the information obtained from social media and online information services, we intend to visualise the network of Katowice's cultural organisers. While at it, we will also examine how the geography of events has changed in recent years: whether the Culture Zone has taken over the role of Mariacka Street? Has there been an increase in the number of events staged at the Sejmu Śląskiego Square or the Wolności Square after a low point following the launch of the city's favourite pedestrian street?
9- Which event organisers are most effective in engaging audiences on Facebook?
Facebook page administrators have advanced statistics tools to track and analyse the engagement of their users. It is a more daunting task, however, to compare your performance with similar institutions or competitors. We will provide a tool for visualising the activity of Katowice institutions in Poland's most popular social networking site.
10. How do participants learn about cultural events?
Marketing experts argue that with no publicity on the Internet and in social media, cultural institutions are doomed to oblivion. Equally often, cultural participants learn about events through friend recommendations, rather than advertisements or Facebook profiles.
11. Which cultural events bring together audiences with similar interests?
How to quickly find out which institutions attract audiences with similar interests? As conducting surveys on such a large scale would be a challenging task indeed, we have opted for an alternative approach which makes use of already existing data from social media. By analysing Facebook user 'Going' and 'Interested' declarations for particular events on Facebook we are able to find the ties between theirs organisers.
12. What proportion of 'Going' clicks on a Facebook event translates into actual participation?
This question bothers many cultural organisers, as they notice the startling differences between the large numbers of people declaring interest in the event on Facebook and the actual turnout on the day. We decided to study this phenomenon by creating an experimental application designed to examine characteristic behaviour patterns of social media users. You can still join our project at badamykulture.eu (Polish version only).