SHARED CITIES: REFLECTION
After four years the project Shared Cities: Creative Momentum is coming towards its end. It's time for our project partners to share their personal impressions and highlights during the project. Did their perception of sharing change?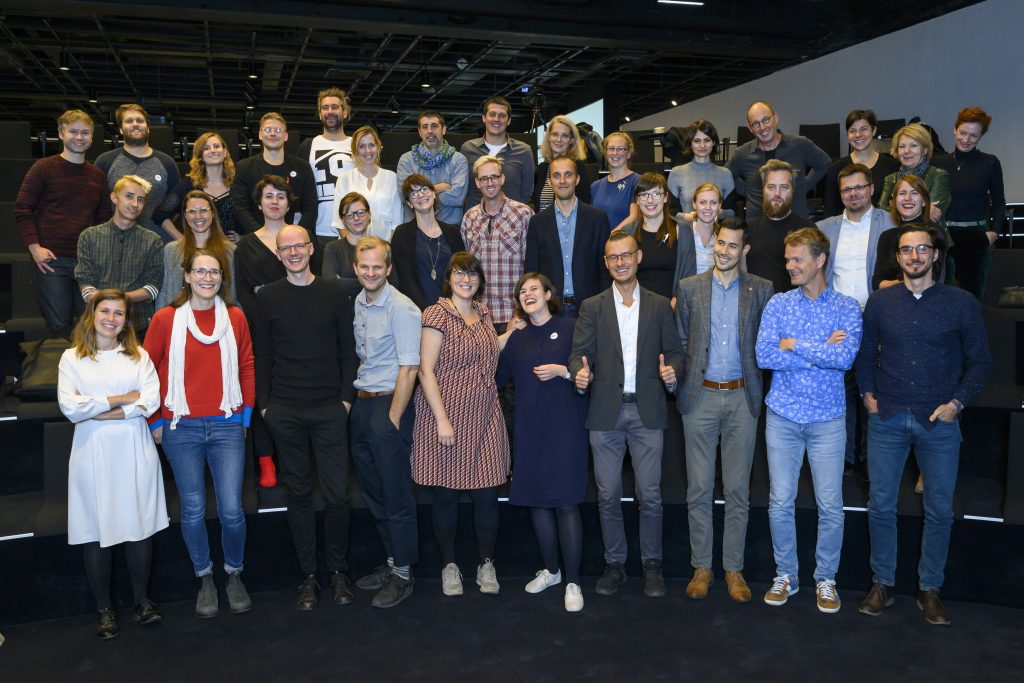 What is the creative momentum in the Shared Cities project for you?
"Well, to me personally it's been a good flow rather than the momentum, since I usually tend to focus on long term processes that sometimes are difficult to pin down. Firstly, I'm happy about several opportunities that we have had throughout the project to collaborate with different partners (in our case especially from Prague). Secondly, it's nice to see that several other initiatives have already emerged from our research in Katowice, which will be developed even after the SCCM project is finished. This is the real creative momentum."
Karol Piekarski (Katowice Miasto Ogrodów, Katowice, Poland)
+++++++++++++++++++++++++++++++++++++++++++++++++++++++++++++
"The creative momentum has enabled us to connect, to exchange and to join the activities of the 30+ generation of actors, NGO professionals, curators and architects in the region of Central and Eastern Europe. The case studies commissioned by the Shared Cities project developed best practice examples of non-commercial, idealistic and community-oriented sharing practices. Ideas Yards instigated local initiatives and activated citizens. The Atlas is one of the final outcomes of the project and presents these results."
Helena Doudová (reSITE ­­­­­­­­Prague, Czech Republic / Berlin, Germany)
+++++++++++++++++++++++++++++++++++++++++++++++++++++++++++++
"After a year of planning we started actively transforming the Rákóczi square market hall and its neighbourhood. Our goal was to revitalise the community-based lifestyle in this special area. Even just talking about our vision made me feel the creative momentum!"
Ádám Kobrizsa (Mindspace, Budapest, Hungary)
+++++++++++++++++++++++++++++++++++++++++++++++++++++++++++++
"The assemblage of very creative people and their peculiar ways of thinking and interests. Sometimes we were surprised by each other's ideas and sometimes we disagreed with each other, always respectfully."
Kamil Pavelka (Goethe-Institut Prague, Czech Republic)
How has your perception of sharing and shared cities changed during the Shared Cities project?
"What opened my eyes was a comment from Samu Szemerey, my KÉK colleague, who pointed out one shared aspect in the CEE region – people seem to be full of anxiety, pessimism, they complain a lot. He put a name to something I have been feeling."
Bálint Horváth (KÉK, Budapest, Hungary)
++++++++++++++++++++++++++++++++++++++++++++++++++++++++++++
"Our academic point of view developed – the very idea of a city, as a civilization product where sharing is the main thing that invented it and keeps it running, through a sceptical view that sharing as an animated activity is not what we need, to a more complex notion of sharing different knowledge, stories, agendas, ideas and ideologies to be able to redefine the city again and again to keep it going." 
Vít Halada (Academy of Fine Arts and Design, Bratislava, Slovakia)
+++++++++++++++++++++++++++++++++++++++++++++++++++++++++++++
"It has definitely changed. Also, the discourse of sharing has changed over the time – from shared economy being a hip new thing, to having a critical reflection and now seeing sharing in the context of environmental needs. I have also become more realistic about what it means to share – away from an idealistic view towards seeing that sharing also means conflict, a lot of Reibung to make it happen."
Stefanie Heublein (Goethe-Institut Prague, Czech Republic)
+++++++++++++++++++++++++++++++++++++++++++++++++++++++++++++
"I am sure now that sharing is the future we are creating and that we need – not just a trend and a nice way of living in cities for some!"
Marta Żakowska (Res Publica, Warsaw, Poland)
How has Shared Cities contributed to making Central European cities more liveable?
"Shared Cities has been influential in that the three-way leaders of the project were able to focus for four years on livable city topics. reSITE owes a lot of our recent growth to SCCM, and therefore our ability to influence media, the public, private and civic sector's thinking on this vital topic. Putting a spotlight on SCCM activities has helped elevate "building a livable city" to the top of municipal government so that two of the last three mayors made urbanism their core priority. The City of Prague has taken dozens of formal steps to change the urban planning agenda that is squarely focused on livability and international standards for climate, public space and participation."
Martin J. Barry (reSITE, Prague, Czech Republic)
+++++++++++++++++++++++++++++++++++++++++++++++++++++++++++++
"In Belgrade, it enabled a collectively-built spatial structure that now empowers a marginal social group – the Urban Hub in Ledine. It also provided conditions for creative expression, critical pedagogy and fun!"
Miodrag Kuč (ZK/U, Berlin, Germany)
Any success stories & good practice you can share with us?
"I am happy to share a personal example. The inner courtyard of my apartment building was redesigned by my neighbour – a well-known basketball player, Žarko Paspalj. What was once a poorly maintained and rarely used yard is now a clean outdoor space with a playground, a swimming pool, seating areas and greenery that is enjoyed by all members of the community. The "space" has been rightfully turned into a "place" – a tiny sanctuary tucked away from the tough urban landscape of the city, bringing neighbours together. Such individual actions make Belgrade citizens interested in their neighbourhood. Transforming "users of space" into "actors of urban change" is challenging but necessary in order to accomplish well-being."
Tatjana Vukosavljević (Association of Belgrade Architects, Belgrade, Serbia)
+++++++++++++++++++++++++++++++++++++++++++++++++++++++++++++
"The Vivid Square project in front of the Old Market Hall is running successfully. Thanks to SCCM we initiated a creative momentum on SNP square and set a new standard for other squares in Bratislava – our case study can be replicated and we are happy to offer guidelines and consultations."
Jan Mazur (Old Market Hall Alliance, Bratislava, Slovakia)
+++++++++++++++++++++++++++++++++++++++++++++++++++++++++++++
"The greatest success is that we managed to prepare our exhibition, which was originally supposed to be targeted to a professional audience, in such a way that it eventually attracted a wide range of visitors, not only in the Czech Republic but also abroad. And at the same time, the exhibition really has sparked an international debate on these often unique architectural projects which was our main intention."
Ivana Černá (Czech Centres / Česká Centra, Prague, Czech Republic)
+++++++++++++++++++++++++++++++++++++++++++++++++++++++++++++
"Where to start: we've seen growing civil society in Belgrade, progressive urban planning in Budapest. Also, I was impressed by artists turning a chemistry school into artist studios in Bratislava. People are beginning to understand that when they have democratic governments, it's not just a possibility to get involved, it's actually a necessity for the progression of plural, diverse and inclusive societies."
Matthias Einhoff (ZK/U, Berlin, Germany)