Event
Belgrade International Architecture Week 2019 – 14th BINA / Positive&Active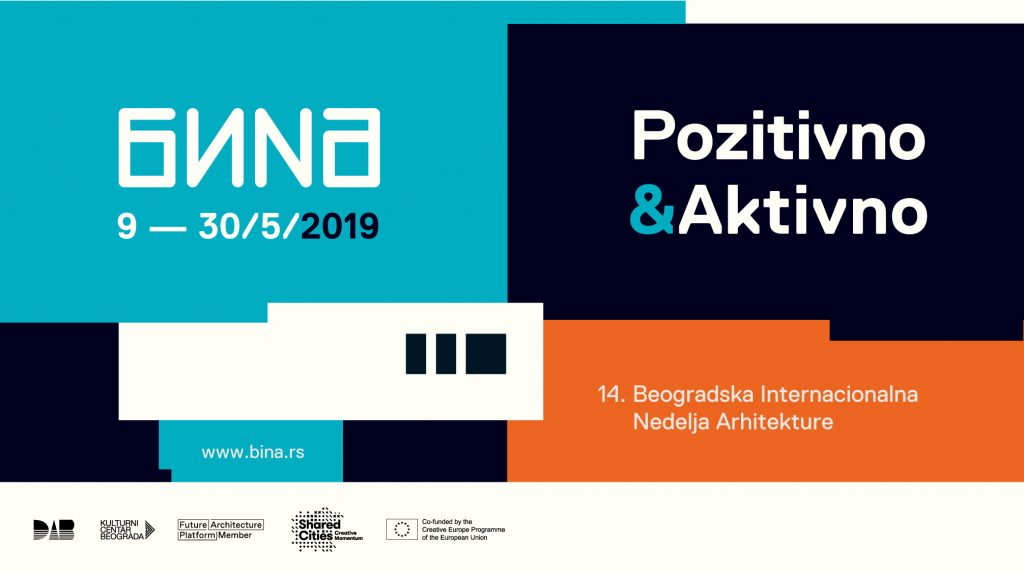 ©BINA
Subject of the fourteenth BINA festival POSITIVE & ACTIVE draws attention to actual and timeless examples of activities in urban and architectural practice that characterize a positive and proactive approach to understanding and solving spatial problems. The BINA 2019 programme provides an insight into the values, contemporary interpretations and indications of possible new purposes of the architecture created in the period of modernism, seen by the eyes of the "Y" generation (millennials). At the same time, through various formats: exhibitions, lectures, films and installations, BINA presents a contemporary architectural practice that arises in a completely different social, political and technological context, the basic characteristics of which are: speed, dictation of capital, flexibility and transdisciplinarity. How to be professional, achieve the desired standards, and at the same time remain faithful to ethical postulates of the profession, are the topics that will be discussed at the BINA 2019.
This year's topic presents the activities that encourage positive and active approaches in solving spatial problems and riddles. How did we deal with these issues before, how we do it today, and what our compatriots and children think about this.
This year, we continue with the Shared Cities Creative Momentum project (SCCM), in which we improve the lives of inhabitants of suburban settlements, through educational workshops and through small interventions in the public area (Ledine settlement). SCCM is European cultural platform that examines the contemporary urban challenges of European cities. At this year's BINA we are presenting Urban Hub 2 – Multi-functional Circle. The project is realized in cooperation with NGO Škogled and Elementary School "Vlada Obradović Kameni". Urban Hub 2 is imagined as a collective intervention on school yard – a summer classroom at an open public area of the settlement Ledina – with an aim to improve the quality of life in the community. A joint consideration of all groups associated with the school yard resulted in a proposal for a solution to improve one part of the school yard with the idea that this place could become a new place for gathering and exchanging.